Raura



Pairing:

Status:

Close friends, co-workers, Best friends, very possible crushes.
Raura
(
R
/oss and L/
aura
) is the real-life pairing of
Ross Lynch
and
Laura Marano
. They appear to be very close friends, and they are very comfortable with each other. They are good friends, because through different interviews they are teasing each other and joking around. Though they never considered dating.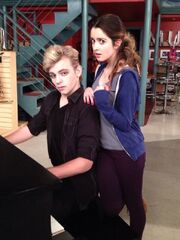 Relationship
Edit
Ross and Laura have a close relationship. They seem to be very comfortable around each other. They both are
pretty different, but that's what makes them good friends. They tend to tease each other a lot during interviews, videos, etc. Ross has said that Laura and he have such a great friendship. He also states that it wouldnt be a bad thing if they did date.
Other Names
Edit
Loss (L/aura and R/oss)
Rura (R/oss and La/ura
Lass (La/ura and Ro/ss)
Rora (Ro/ss and Lau/ra)
Lauros (Lau/ra and Ros/s)
Laro (La/ura and Ro/ss)
Laross (La/ura and Ross)
Rolaur (Ro/ss and Laur/a)
RLM (Ross+Lynch/Laura+Marano)
Lyno (Ly/nch and Mara/no)
Lauss(La/ura and Ro/ss)
Larano (L/ynch and M/arano)
Raura
To view the Raura Gallery, click here.
Raura Fanfics
Edit
If you read any of these fanfictions from this page, be sure to leave a review on the story saying that you found the story by the Raura wiki! 
Nobody Ever Said It Would Be Easy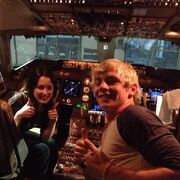 thumb|link=http://www.fanfiction.net/s/7766729/1/Nobody_Ever_Said_It_Would_Be_Easy
Valentines Day For The Lynches
Ross and Laura : The Real Life
Speak Now Raura
thumb|link=http://www.fanfiction.net/s/8407307/1/Speak_Now_Raura
When We Meet Again Raura love story
Always Ending Somewhat This Way
Raura:Talk shows & Other things
thumb|link=http://www.fanfiction.net/s/8565903/1/Raura-Talk-shows-Other-things
When We Meet Again Raura love story
All Too Well
thumb|link=http://www.fanfiction.net/s/8715318/1/All-Too-Well
Mistaken (A Raura and Auslly story)
The Mute Freak- Raura Love Story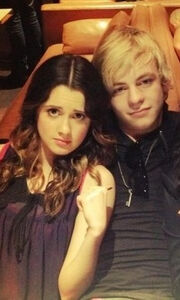 thumb|link=http://www.fanfiction.net/s/8656775/1/The-Mute-Freak-Raura-Love-Story
The Girl Who Couldn't Love (Raura Love Story)
Miami Music Camp (a Raura story)
Got a Secret, Can You Keep It?
Now Is The Time: A Raura Story
Raura Moments
Edit
They went to the 'Chimpanzee' premiere together.
They went to the Muppets premiere together.
Ross helped Laura do her make-up.
Ross ,and the rest of the cast, tried to encourage Laura to get Twitter (which she eventually did).
In an interview, when Laura says her favorite food is "go-gurt", Ross replies "It's all she eats", meaning he knows a lot about her.
Laura described Ross in an interview saying, "I can read him like a book. I know all his tricks".
Laura describes Ross has "adorable puppy-dog eyes" but says they don't work on her, implying she knows him well enough to know that about him.
They are now both working together on a project for Disney's Friends for Change, which they are both ambassadors on.

They have fun together.
They went to Kansas City together to take pictures and sign autographs with fans.
They both love adrenaline rush.
They're hopeless romantics.
They dressed up as Fred and Ethel which is a married couple from I Love Lucy!
 In a cast photo Ross pretened to propose to Laura.
In a NBT Behind the Scenes video, Ross and Laura were both mentors, and at :30, Ross puts his arm around Laura.
In the same video, Ross and Laura high five each other a couple of times.
In the end of a live taping, when they were taking pictures with fans, Ross said to Laura that she scratched her arm on the Austin and Ally sign, and he sounded caring.

On the livestream, Ross called Laura "adorkable"
On the livestream, Laura called Ross a sweetheart.
Ross seemed very jealous when Raini and Laura thought Raura meant them.
Ross said Raini and Laura were totally joking when they thought the pairing name Raura meant them.
On the livestream Ross said, Auslly & Raura.
In  the livestream Ross and Laura kept teasing and looking back eachother.
Ross said he would date her in real life .[[]]
Similarities
Edit
They both love to perform music.
They both have siblings in the acting industry: Ross's older brother, Riker, plays Jeff Warbler in Glee, and Laura's older sister, Vanessa, who plays Bay in Switched at Birth.
Both Laura and Ross seem very interested in helping kids and the planet through Friends for Changes.
They both have a Twitter acount.
They are both born on the 29th. Ross was born on December 29th, and Laura was born on November 29th.
They both sing.
They both work together.
They both are actors.
They both star (and are the main characters) in Austin & Ally.
They have each others numbers.
They both have older sisters.
They both can play piano.
They are both on Austin And Ally
They both said they hang out alot
They love christmas.
They love all episodes from Austin & Ally.
They love the word Awesome/Rossome.
They both say it's important to have an education.
They both are best friends
They both love Austin & Ally.
They both agree that Austin & Ally should be together.
The Raura song has yet to be determined. However, since "Don't Look Down"  and You can Come to Me are duets between them, this songs could be considered a Raura song. Also there is another dueIt and falling for you and here comes forever is about her and could have been mine and repeating days
could also be Shine, a song sung by Laura, because it's about nature, and Ross and Laura are Ambassadors for Friends for Change.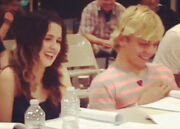 The Raura color has yet to be determined but seeing as their favorite colors are yellow and red some people suggest that it could possibly be orange.
---